Crystal Anne has been a certified hair extension specialist since 2005, and has tried and tested hundreds of various hair extension techniques and brands to find the best for her clients. After years of testing, Crystal Anne found Hairdreams Hair Extensions and is excited to offer the most luxurious quality hair extensions to her clients at her Houston Hair Extension salon.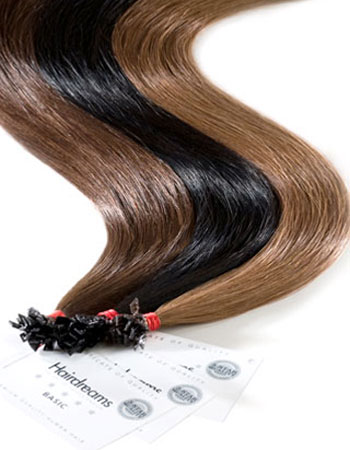 Why Hairdreams Hair Extensions? Hairdreams brand scours the worlds human hair extension suppliers and has secured a top level position in the selection process. Before any other hair extension companies are permitted to purchase human hair from these suppliers, Hairdreams Hair Extension 'Selectors' take first pick! Using high powered magnifying glasses, these Hairdreams Selectors go through the huge supply of hair extensions and select only the strongest, healthiest, longest pieces. The final selections are narrowed down to the top 1% of the hair extensions in the world. No other hair extension company uses such strict selection.
After the tedious selection process, the hair extensions are colored to match one of the hundreds of hair extension colors that Hairdreams has formulated. The Hairdreams color process does not involve high powered bleach and dye- which would fade quickly and compromise the health of the hair. Instead, Hairdreams uses a nearly month long decolorization process that gently adjusts the color of the hairs by just a few levels. What does this mean for clients? First, it means that the hair will be as healthy and strong as natural hair that has never been chemically processed. Second, it means that the hair extensions that clients are recieving has only been minorly adjusted from the hair's natural color. This is great because the shape and size of a hair's cortex varies depending on the natural color of that hair. Hair that is natural blonde has a smaller cortex, making it finer in texture; while hair that is naturally black has a wider cortex, making it slightly more textured. By not affecting the cortex of the natural hair, Hairdreams hair extensions are not only stronger, healthier, and shinier; they also look and feel more natural to the client wearing the color that matches their own color and texture. No other hair extension company in the world can offer this level of quality.
In a 2012 interview with International Salon Magazine, Crystal Anne said;
"I can say with certainty that Hairdreams Hair Extensions are the best hair extensions in the world, and I say that with nearly 10 years of daily hair extension experience and after using every major brand of hair extensions available in the United States and Europe. I do not just do hair extensions as an addition to my basic salon- I only do hair extensions. I have devoted my career to hair extensions and non-surgical hair replacement after a health condition caused me to lose a lot of my hair in my early 20's. So, when I say "daily hair extension experience", I mean I have done only hair extensions every single day at my Houston hair extension salon since 2006, not just once a week like most hairstylists that use hair extensions as an addition to their regular salon business. I think that this personal experience wearing extensions and professional experience of doing hair extensions gives me the first hand knowledge to say with certainty that I have discovered the best of the best!
I can personally relate to my clients being unhappy with their natural hair, hoping it would get longer, wishing it was thicker, praying it will grow back after I lost so much of it. A thyroid condition caused me to lose most of my hair in my early 20's and Hairdreams hair extensions have been a miracle for me after years of suffering with other hair extensions that either left my hair even thinner, or that had to be fixed and maintained constantly. With Hairdreams extensions, my hair has looked amazing for the past few years and my natural hair has gotten stronger, longer, and healthier while I've been wearing them. Hairdreams truely has saved my hair."
-Crystal Anne
quoted in International Salon Magazine, 2012

Hairdreams Hair Extension Colors
Hairdreams Hair Extensions are available in thousands of color combinations ranging from solid, to slightly dimensional, to high contrast highlights.
The hair extension color for each client is a custom mix of various shades of Hairdreams Hair Extensions to blend seamlessly with the clients natural hair.
Each strand of Hairdreams Hair Extensions is treated with the most gentle and tedious color process to maintain a strong, healthy strand of hair that will continue to hold radiant color and natural shine for months.
With Hairdreams Extensions, the possibilities are endless!
To see examples of Crystal Anne's real clients wearing Hairdreams Hair Extensions, check out the Before & After Hair Extensions Photo Gallery here.

Hairdreams Hair Extension Bonds
Hairdreams Hair Extensions are attached with a lightweight, durable Keratin Thermoplast, which: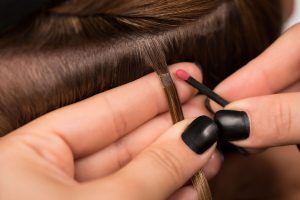 contains NO glue
contains NO wax
contains NO harmful chemicals
is small and lightwieght enough to cause NO DAMAGE on even the finest and most fragile natural hair
will remain firmly attached to the clients hair until it is removed
will not slide out or become break down from the washing, styling or using hair products
is gently removed using a solution that contains no acetone, amonia, or chemical strippers
To read more about how Hairdreams Extensions are attached and removed, see the hair extension application and removal process here
Hairdreams Hair Textures
Hairdreams Hair Extensions are available in six distinct hair textures including:
Natural Texture- versatile texture that drys with a slight wave, can be blow dried straight, and holds curls well
Extra Straight- hand selected pieces that are extra straight, but not chemically straightened
Wavy 1- bodywave permed texture
Wavy 2- light curl permed texture
Curly- curly permed texture
Afro Straight- permed texture with extra short curl pattern to match ethnic textured hair