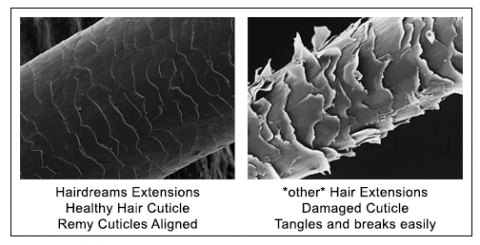 What are Hair Extensions made from?– Hair Extensions can be made from either Human Hair or Synthetic Hair. Unlike human hair, synthetic hair is artificial man made extension hair, and will melt like plastic when heat is used on them.
All hair extensions used by Crystal Anne are the top 1% highest quality human hair. It is important to note that not all human hair is created equally, however. Some hair extension companies use human hair that is not universally suitable for hair extensions including Asian hair- which is too straight and has too thick of a hair shaft cortex, processed hair- which has been bleached or chemically dyed leaving it dry and damaged, and non remy hair- which does not have cuticles that are aligned in the natural direction of growth or that has been stripped of the cuticles altogether which causes tangling and rough texture. The top quality human hair used in the Hairdreams Semi Permanent Human Hair Extensions by Crystal Anne is unprocessed, completely natural, remy human hair. You can read more about different types of hair extensions and compare them here.

Can they be color matched to a client's hair color?-Yes.  There are 186 different shades, which can be mixed in over 1000 combinations to match a client's hair.  If a specific shade can not be matched from the hair extension sample colors, these top quality human Hair Extensions may be colored to match the client's hair or custom ordered to be a blend of colors. See the amazing array of colors on actual hair extension clients in the before and after photo gallery here.
What are the differences in the qualities of hair?– Human hair is the better than synthetic hair.  It can be styled with hot tools such as a blow dryer or curling iron without melting.  There are many different types of Human hair, but the two most common are Indian Temple Hair and European Hair.  Indian Temple Hair is hair from India, is usually black at first and chemically treated to be lightened to the desired shade.  European Hair is a higher quality hair, that is usually of lighter color and needs fewer color treatments to reach its desired shade, making it less chemically treated and softer. Hairdreams brand extensions used by Crystal Anne offers both Indian and European hair.
What are the different techniques of putting in Hair Extensions?– There are many techniques used to apply Hair Extensions.  Crystal Anne uses the individual strand technique for bonding hair extensions using a keratin thermoplast bond- which is safe on all hair types and is the most durable, long lasting method for attaching semi permanent hair extensions.  This technique takes small sections of the clients hair and attaches a small, individual hair extension to the clients natural hair. Read about the most common hair extension techniques and what sets the hair extensions by Crystal Anne above the competitors here. Watch the video below to see the complete application process.
How long does it take to apply the extensions?– The application time for hair extensions varies from 1-4 hours.  The longer, thicker, or more shades of extensions there are, the longer the application will take.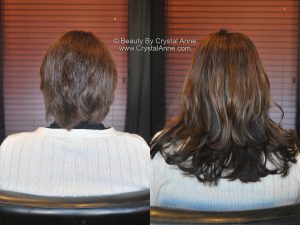 How long does a client's hair need to be for application?– A client must have at least 1 inches of hair to apply Hair Extensions to. While it is recommended to have at least 4 inches of length on the shortest layer some clients have special needs and wish to go ahead with extensions on shorter hair but should not expect to be able to wear their extensions for as long as those with longer natural hair.
How long do Hair Extensions last?– Different types of Hair Extensions last different amounts of time.  Hairdreams Semi Permanent Hair Extensions can be worn for up to 6 months or until your natural hair grows 2 1/2 inches. Some companies say that their extensions can be worn longer, but their claims are very misleading. While hair extensions may stay attached to your hair for longer than 6 months, clients usually start having complications and damage to their hair if the extensions are worn longer than 6 months. The extensions grow with your hair and will gradually get longer as your hair grows out. Wearing hair extensions beyond the time it takes your hair to grow 3 inches is equivalent to getting fake nails and not doing a fill for 3-4 months. Sure, you can do it, but your hair will look bad, damage will be done to your natural hair, and the extensions will eventually start falling out and looking stringy.
How are Hair Extensions taken out?– The Hair Extensions are taken out after the client's hair has grown out about 3 inches.  A removal solution is applied to the bonding points, and pressure is then applied.  The bond will then start to dissolve and easily slide down the hair shaft.  The process is painless, non-damaging and takes around 1 hour. The solution does not contain any acidic chemicals such as acetone or ammonia.
How much do Hair Extensions cost?–  Hairdreams Human Hair Extensions by Crystal Anne generally cost between $500-$1600 depending on the length and style desired.  The longer the extension, the more money you should expect to spend. The more layered and complex the hairstyle, the more extensions and expense is necessary. Thickening starts at $500.  Lengthening starts at $850. Keep in mind, you are not only paying for a skillful application by an extensively trained and experienced expert; but also for the highest quality, longest lasting, safest hair extensions available. An exact price is only available by consultation, but some price examples can be seen here. Keep in mind, the few stylists and salons in the USA offering the same quality products by an equally knowledgeable professional charge up to three times as much as Crystal- just call them and ask! For this reason, Crystal Anne has clients all over the USA and worldwide that find it more affordable to have Crystal Anne provide her services on location where they are rather than visiting local salons; plus, those that have experienced her services value her skillful and customized techniques! See what clients have said about the value of hair extensions by crystal anne here.
What kind of maintenance do you need to have done on Hair Extensions?– Hairdreams hair extensions are very durable and do not fall out or need to be replaced as many other types of extensions do. The durability of these extensions also enables clients to use their own hair products rather than having to purchase special products specifically for the hair extensions. It is beneficial to use a sulfate-free shampoo. Crystal Anne's favorite brands are Moroccan Oil and Pureology. Also, as your extensions grow out, it is important to keep them separated at the bonds. This is very simple and can be maintained in just a few minutes per day.
At your application appointment, you will receive Homoe Care Instructions that explain important steps in washing, brushing, and styling your hair extensions to avoid tangles, mattes, or damage. If you are diligent about taking care of your extensions there are no maintenance appointments or specific specialty products that are necessary.
How do you style Hair Extensions?– Client's may style their hair extensions as normal, using any styling tool including hair straighteners, curling irons, hot rollers, and blow dryers. Clients may also continue to have their hair color treated while wearing hair extensions.
Will Hair Extensions make my hair grow?– While hair Extensions do not *make* your hair grow, they do help hair maintain length as it grows.  By protecting your hair from the styling you would normally be subjecting it to which causes hair breaking and damage, hair extensions help clients accumulate more length to their hair.
Will Hair Extensions damage my natural hair?– Hair Extensions that are applied properly and by an experienced, knowledgeable specialist do not cause damage to the natural hair.  The damage caused by other hair extensions or at other salons are the result of hair extensions that are applied improperly, used on hair that is not suitable, or of improper care explanations to the client. Also, not all hair extensions are the same. Now hair extensions are so popular, many stylists are desperate to attract new clients with this hot new service. Rather than investing in thorough training and a high quality product, they are coming up with inexpensive ways to apply hair extensions on their own using supplies found at retail stores and the internet. These methods that include tape, glue, metal clips or rings, weaving, sewing, and countless other techniques can be damaging to your natural hair. Beware of these types of hair extensions. You can also read more about different techniques for hair extensions here.
Will I lose hair while wearing Hair Extensions?– Every person on this earth loses between 50-100 hairs a day; it's a medical fact!  When a client gets Hair Extensions, they still lose these hairs, but rather than these shed hairs falling out completely into your hairbrush or shower, they stay attached in the hair extension bond until the Hair Extensions are taken out.  So when the Hair Extensions are removed, you see these hairs come out as well. Hair Extensions do not however cause more hair to fall out.  The only time a Hair Extension will cause hair loss is if it is pulled so hard that the client's natural hair is literally pulled out of the scalp or breaks off, which takes significant pressure.
What is the overall effect of client's who wear Hair Extensions?– Clients who wear Hair Extensions have long thick hair which can be styled in many ways. The freedom to enjoy everyday activities and regular styling routines makes wearing hair extensions easy, comfortable, and fun!