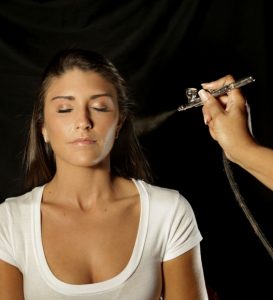 Airbrush Makeup is a cosmetic industry breakthrough that continues to amaze more and more people every day with its ability to minimize skin imperfections, completely conceal dark circles, flawlessly cover tatoos, and strategically define features while still giving a radiant natural look to the skin. Airbrush makeup has an unmatched coverage that cannot be achieved using conventional makeup products and techniques. While an airbrush makeup application takes a fraction of the amount of time a traditional makeup application takes, it has proven to last more than 16 hours in heat, humidity, and through sweat, tears, and direct moisture without compromising it's natural looking finish! Notice the amazing qualities that airbrush makeup has in the photos below and in the photo gallery.
Airbrush Makeup has been used for over 10 years by top makeup artists in the motion picture and television industry. Now, it is the entertainment industry standard and the only makeup used for high definition productions. With the professional makeup service by Crystal Anne, airbrush makeup is available to you!
Airbrush makeup is a custom blended liquid cosmetic that is applied to the skin using a gentle, even flow of clean air. Makeup artist Crystal Anne has mastered the art of flawlessly airbrushing makeup for brides, pageants contestants, models, and makeover clients
---
Our Airbrush Makeup Is:

• Tested to last up to 18 hours
• Resistant to humidity, moisture, heat, creasing, smudging, or fading
• Custom blended for a perfect color match for skin of every shade
• Hypoallergenic, alchohol and paraben free, will not clog pores, and is not tested on animals
• Has a natural matte finish that is specially formulated for a flawless finish in photos and under bright lights and flashes
• Concreals all imperfections including dark circles, acne, portwine birthmarks, scars, sun spots, feckles, vericose veins, and more!
---
WARNING!
Due to the excitement and increasing popularity of airbrush makeup, it is being exploited to consumers who are uneducated about the service. Many makeup artists are interested in offering airbrush makeup services without proper training while using inferior equipment and products. Without necessary instruction, inexperienced airbrush makeup artists may produce undesirable results and even harm to your skin by using their airbrush equipment at the wrong pressure or using unprofessional products. Also, many companies have produced home airbrush makeup equipment to market to comsumers as a less expensive do-it-yourself alternative. Beware that these products are often the exact same formula as traditional makeup with the added equipment of a makeup sprayer. These so called "airbrush makeup" home kits are a disappointing comparison to the professional products they are modeled after and offer none of the added benifits of authentic, professional quality airbrush makeup. Do not be fooled by these schemes!
---