Using on the top 1% of human hair worldwide, Hairdreams brand hair extensions are the most luxurious quality hair extensions in the world. These premium human hair extensions are attached using a revolutionary keratin-thermoplast bond that is both durable , invisible, and safe on all hair types!
Other hair extensions are attached by:
tight weaving and braiding, which causes tension alopecia- hairloss resulting from too much tension on the root of hair
glue containing chemicals and waxes that can be a mess to remove and tangle with your natural hair
metal clips that are unsightly, uncomfortable to sleep in, and do not adhere well to fine textured hair
adhesive tape that puts excess weight on concentrated areas of clients natural hair, which causes hair loss; and messy removal that causes damage
Hairdreams Hair Extensions at Beauty by Crystal Anne are attached by:
tiny keratin protein bonds that contain no waxy adhesives, glue, or chemicals
bonds that are the size and shape of a grain of rice, with smaller pieces available for clients with extra fine, thin, or fragile hair
a trained, certified, extensively experienced hair extension expert knowledgeable in precise extension bond placement, color blending, and hair extension specific cutting techniques
SCIENTIFICALLY PROVEN QUALITY
An analysis at the University of Aachen in Germany proved the impressive and unparalleled quality of the Hairdreams hair extensions used at Beauty By Crystal Anne.
A comparison with a lower-priced competitor's hair revealed that the hair extensions used by Houston based hair extension specialist, Crystal Anne, consists of 100% healthy "normal" hair with fully closed cuticle layers, which stands out for its perfect shine and natural elasticity. The competition's hair on the other hand is mostly composed of extremely damaged hair as a result of chemical treatments, or hair that is completely missing the hair cuticle as a result of poor hair collection methods.
This is of great significance in terms of the quality because hair without a healthy cuticle has little shine, no elasticity and tends to become tangled and matted easily. Sometimes, other hair extension companies will coat their hair with silicone or other shine enhancers that make the hair feel soft and look shiney, but those artificial additives wash away easily and leave the client with course, tangling, damaged hair extensions. The Hairdreams hair extensions used at Beauty By Crystal Anne are never coated with any type of shine enhancers or artificial additives.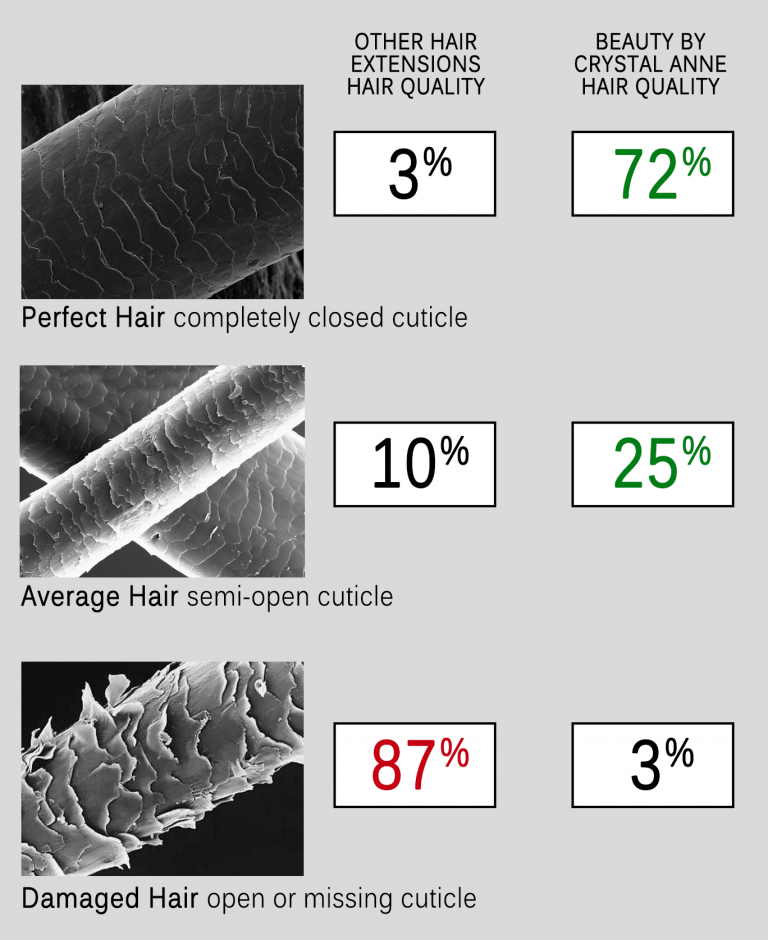 ---
"TAPERED LENGTHS"
Hairdreams Hair Extensions by Crystal Anne are only minimally "tapered".
This means that most of the hair strands are the same length and there is an evenly distributed amount of volume from top to bottom (see illustration below)
This is an important quality feature because lower quality hair that is not a consistent length throughout a bundle of extensions makes ends look thinner, stringy, and less healthy.
Comparisons with lower-priced competitors' products reveal the obvious difference. (see photo below for comparison)